Turn-key Blast Room Installation in Metro Detroit
Our team provides start to finish services for every installation.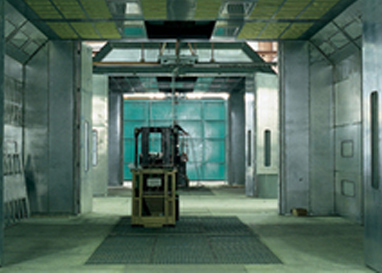 W.H. Duffill can manufacture and integrate blast rooms of any size that'll meet your unique production requirements. We've installed blast rooms for a variety of industries, such as aerospace, automotive, wind power, and more. From steel grit and bead blasting to plastic media and shot blasting, we have a blast room solution for you regardless of the application.
The team at W.H. Duffill will help guide you through the entire process, from the initial consultation to the final installation. We want you to be able to use your blast room, and all the equipment within it, safely and efficiently. Our carefully engineered blast rooms with abrasive recovery and ventilation systems are what has kept our customers coming back for decades. When you partner with W.H. Duffill, you're getting a company of skilled professionals that are known for their dedication, expertise, and knowledge throughout the industry.
---
The W.H. Duffill Difference
With start to finish blast room installations, we have all the supplies and equipment you'll ever need to complete any size abrasive blasting job efficiently. From concept to completion, our team will work with you to ensure you have the right equipment, tools, and supplies. Our company has built a solid reputation for providing high-quality products and reliable services for companies throughout SE Michigan. For more information, call the team at W.H. Duffill today at 248-542-3808.